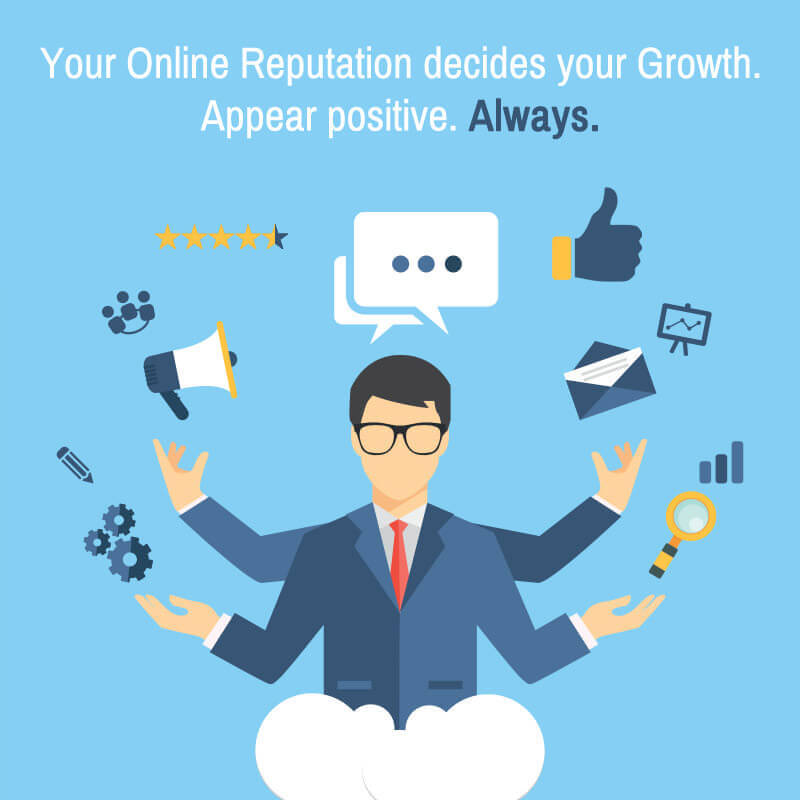 Online Reputation Management (ORM) deals in bettering a brand's online disposition. This is achieved by highlighting the company's achievements and milestones, and knocking out demeaning online content with affirmative information. The end-result of this practice helps in repairing the integrity of a brand and brings back customer faith and goodwill. The emphasis is on reducing negative search results related to the query. Google search result is the main target of reputation management.
Let's have a look at some of the common methods executed by the reputation management firms in eliminating the negative virtual image of a brand or an individual.
Issuing/publishing optimistic, encouraging and original web content via social media profiles and websites of a brand or an individual to beat harmful search engine results.
Publishing press releases to endorse the brand and nullify depressing search results.
Remodeling search engine optimization via company white papers and customer appreciations to pull up the public image of a company.
Talk about the brand/company in various reputed third party platforms.
Multiple blogs by different sources to suppress negative search engine results.
Spam bots and DoS (Denial-of-service) to interrupt or put off detrimental web content permanently.
Astroturfing to masquerade the negative online image of a brand by creating undisclosed accounts and establishing positive imprint.
Since now you've got a fair idea how reputation management works, let's throw some light on how you can keep an eye on your company's online reputation. A latest ZenDesk study revealed that 90% of customer purchases are based on positive online review. The perilous effect of online review stays ceaselessly and keeps on affecting the reputation of a brand and purchasing decisions of its products and services. Only lately, Samsung had to pay $340, 000 to HTC for publishing fake reviews about its arch rival. At times, locating and taking adequate measures to deal with unfavorable online reviews can be painstaking. The five measures I'll be discussing in this post will effortlessly allow you to supervise what others are saying about your concern and services.
At the very first step, Google search the company name and see what comes up. Based on what you find (positive or negative), take measures to redirect all attention to everything positive about the search query. One of the simplest ways to do this is by creating different social media profiles of the organization/ individual. They naturally appear on top of search results and will be able to overlap any negative information source about the subject by a few notches.
How often do you check your company's social mentions? It's advised to supervise your company's online reputation intermittently as it slims down the chances for negative content to eclipse the cyberspace.
Give equal importance to the first three pages of Google search result as we all know that a depressing review on page 3 passes on to page 1 sooner or later.
Always use a browser's incognito/private mode when you are doing an online search of your company as it provides you with an unbiased perspective of your company on search engines.
Do not keep responses pending, especially if it's related to unhappy client or customer feedback. Acknowledge and address these issues publicly. Also make sure to improvise ways that show unhappy customer experience isn't a regular affair for your company. Anyone coming across these conversations will create an impression that your company prioritizes customer service and mends the harm effectively.
Some tools come in handy while mending damages. Below are mentioned five tools that would enable you to track your company's online reputation more conveniently. If you've been searching for coon's age to track your company online, it's high time you used these tech tools to professionally manage your virtual reputation.
Naymz: This social networking platform helps to create a professional network and handle online reputation as well. It was the first online reputation management service launched in the year 2006. One of its major features is the RepScore that rates your company across varied social networking sites like Twitter, Facebook and so on.
Brandseye: Online reputation gets trouble-free with Brandseye. It sends you email notifications when there is an online discussion related to your company/brand. Also it allows tracing online conversations and metrics comparisons. This is one of the expensive applications used by companies to maintain their online profile.
Trackur: This social media monitoring tool gives you a full check on all the major social media and mainstream news platforms. The social analytics allows the user to trace and examine effective marketing trends that provide the maximum upbeat responses.
Google Alerts: This content change and notification service sends email notifications to the user when it locates a new result that goes with his/her most often search terms. It could relate to new websites, blogs and articles.
SocialMention: This free tech tool that allows to brush off your brand name in various blogs, videos, micro blogs, images or even a query that's related to your company from search engines. The user needs to control this tool as it's not automated.
To conclude, maintaining your company's online reputation is a regular task. It's not like you fix it once and forget it. The faster the issues are addressed, better for your company. And this involves regularly nurturing your brand among your audience with positive developments. Streamline your endeavors for a comprehensive approach to your reputation management campaign to build a strong and reliable brand. It can only protect your business and keep it consistent without impacting the name you've already carved for yourself.