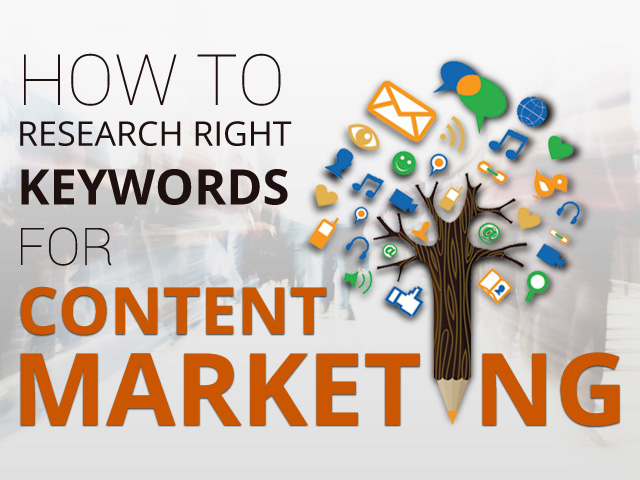 Many digital marketers post Hummingbird and the subsequent updates started overlooking the opportunity of keyword research in content marketing since 2011. Considering it to be obsolete, many companies incurred heavy losses in terms of organic search. Integrating right keywords into content and landing page can provide greater prospects and possibilities for your business rendering higher sales. So are we going to do the research the way we used to in 2013 and before? Of course not! Time has changed, and so has your audience, where and the way they search. So to keep your business relevant and accessible to your audience, one needs to start with a fresh approach to keyword research for content marketing in 2016. All successful digital marketers have keen eye on effective keywords, the words which work and which don't. In semantic world smart marketers are more aware of words and phrases used often by different age groups, regions and demographics keeping in mind that people speak differently and search in a different manner. Apart from PPC and SEO, marketers are also using keyword search to find out profitable content topics and phrases to effectively carry out their Inbound Marketing which can open the floodgates for qualified and earned traffic.  Below are ways how to do keyword research for content marketing in 2016. Before going ahead let's take a quick look at different (broad) types of searches or queries on the internet:
Informational queries: In these queries users try to find potential answer to a particular question which normally starts with how to, which is the, what are the and so on. Inbound marketing strategy gets a boost up if your website provides that right answer a visitor is looking for.
Navigational queries: Here the user knows about the brand or product. Through search he is probably trying to find out the webpage of that particular company or page displaying the product/service in the site. So this search will fetch you the maximum organic traffic provided you have strong brand recognition.
Transactional queries: Over here terms like want to buy, buy online, best price or place an order are used as the user is more certain to make a purchase at the end of the conversion funnel.
So, for each user intent, there are different keywords used, or a different arrangement of terms used. Some are used at the early stage of a search while some are used close to a sale. Let's look at how to effectively research keywords for content marketing for targeted audience.
Related keywords at specific locations can help a search engine to rank content specifically high in search results. The locations are:
The title or the headline of the content
Subheadings, if any
The body of the content.
Besides there are other points to consider:
Write on keyword terms/ phrases/ topics your audiences are finding difficult, or confusing. Or address topics related to new terms that are causing a noise/debate in the community. The more you interact on social media, with your marketing team and different webinars, the more you get an idea on different recurring topics and write on them if you have suitable expertise. The topics most discussed and doing the rounds should be written on.
Different niche forums, social sites and question and answer sites can provide you with traffic intensive trendy and viral topic ideas. Also one can use Buzzsumo to find content ideas widely shared on Facebook and twitter.
With the help of Google webmaster tool and internal site search identify the search terms and keyword that people are using to identify you and your content online. Also review recent queries via Google analytics or Google search console. Here you get to know about the words of real people, their dialects and notice the terms that didn't appear in click-throughs. So your main intention would be to create a list of highly relevant best keywords that fit into your content impeccably!
As I mentioned at the top, in the world of semantic search, one needs to zone in phrases and words widely used by a particular age group, location and demographics. This helps to associate local customers quite easily with your organization. Opt for keyword tool planner like 'Google my business' that refines and generate keywords based on country, state, zip code etc.
Also a key word tool like Soovle allows you to identify the top autocompletes of different search engines and websites. The keywords you have collected so far add them into Google so that your audiences see the same suggestions and locate your content.
Look for the keyword terms in different blog posts, groups, forums, comments and support requests your audiences are using to describe a particular product or service and thereon research on their state of mind. Also research on the terms and phrases the target audience is often using in their everyday life.
Get suggestion from front line employees to know the popular lingos they come across while dealing with different customers.
Check out different reviews and blogs to see how common people are writing in expressing their views about a product or service as writing depicts the way one thinks.
Before selecting the keyword via keyword Planner, take a look at the keyword competition and value. The suggested bid in keyword planner shows the fee a company is ready to pay to have an advertisement up in the search result. The higher the advertiser is paying the better opportunity the keyword would yield. Therefore use them discreetly to convert traffic into sign ups, content sharing and downloads and increasing email listing.
Incorporate your research keywords into copy and see that it fits comfortably.
Even if a chosen term is highly popular and competitive use it on a different angle with some different offer or solution by rightly optimizing the content.
Reviewing your competitors website time to time may help you with keywords which are potentially significant
Find keyword that goes at par with your link strategy and use it effectively. Use such keywords in anchor texts that direct online traffic to your website thereby improving search ranking and visibility of your content and giving better online marketplace for your brand.
Keep away from optimizing unpopular keywords to avoid wastage of time because these would never yield the expected result you are looking for.
Avoid using duplicates. Remove same keywords to create an accurate list by installing Google's remove duplicate add on.
Go for long tail marketing keywords (three to four words in length). With Google's better focus on the relevance of keywords in content, shift to long tail keywords is believed to be more intent-full, future of SEO and provides targeted traffic at low search volume.
Final thoughts
Extensive and effective Keyword analysis has the power to turn a write up into an invite. But mastering this art needs time to understand your niche, market trend and the core patterns effectively. Equally important is to know what not to do in content marketing by learning from common mistakes that are repeated often by seasoned content marketers. Read the mind of your audience and find out which words they are using more often. The better you do your research and use them in the strategy, the better exposure your content gets on search engines. The net result is traffic!
As always, look forward to know what your tactics are in terms of keyword research for content marketing in 2016. Share your thoughts in the comments section