Link building is a process of augmenting your website to reach the higher level of optimization. The purpose of the links is to help the visitors of your website look at more relevant and informative content regarding the same subject and keyword. Links are also meant to increase the search engine results of your website by increasing the page rank. Finally, good links also enable your website to maintain a healthy reputation in the industry. Therefore, needless to say, link building is a part of any successful SEO Campaign. To start a successful Search Engine Optimization program, link building is an integral part. If the process of link building is done effectively, then this process itself helps your website attain a good ranking in leading search engines. It is nothing but a procedure of receiving quality links for increasing the popularity of your website by attracting relevant visitors to your site. Organic link building techniques are a part of successful link building techniques.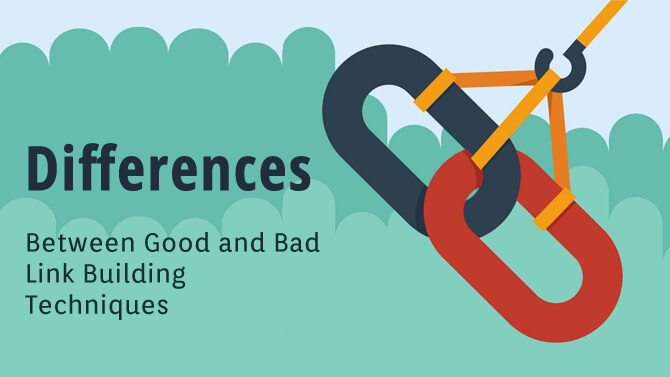 While we talk about link building, it is crucial to know the difference between a good link and a bad link. And even before that, to understand that link building may not have only positive effects on your website. If incorrectly or inefficiently done, a poor link building technique can pull down the relevance of your website and bring it down in search results. Therefore, while we stress on link building, it is critical to keep in mind that the links we create should lead to pages that are relevant to the content of your website and in line with the industry or business audience your website is meant for. Further the outgoing links from your website should be able to target the demographic of your website.
These are considered to be 'good links' that improve your search engine results. Such links which lead to targeted web content share similar keywords and target the same audience. On the other hand, deceiving content, irrelevant content which just nothing but a list of keywords put together is no good to your website. Links which lead to such content or web pages will drive unhealthy traffic to your website which will do nothing to promote your business, and with time, the page ranking will be adversely affected. They will make your website appear spammed, irrelevant and uninformative to prospective visitors. In other words, mindless link building which lead to irrelevant content or obscene sites will showcase your website as part of the junk it relates to. They do more harm than good, and can kill all the good work that preceded it, overnight.
Good link building is not only about linking your website with other SEO friendly websites but it is also about applying organic link building techniques. This is simply linking your site or blog with other sites which talk about something relevant to your content or add value to your views, thoughts, products or services. It should contain good quality and informative content, so that the readers find it useful in their research of the particular keyword. Over the last few years, social media has been instrumental in popularizing and optimizing websites. Social networking sites also help you to share your link with a vast magnitude of users. This helps you connect with a larger audience and distribute your link like wildfire to every nook and corner of the web. However, in terms of guest posts and content, the quality should be up to the mark.
There is also a simultaneous process of Paid link building, where one can pay to place links on selected sites. In this case, the content could be different, i.e., it may be not the same what you have actually written. Though it is a straightforward process but has its own limitations, like the cost factor due to its recurring and ongoing structure. This makes organic link building a popular pick any day. Organic link building is more natural and the benefits are immense. Promoting good quality, relevant and informative content on a regular basis in addition to good link building techniques will help your site to continuously remain on top of the ranks of popular search engines. This will directly reach the targeted audience and will add trustworthiness and credibility to your site.