---
Monday, February 18, 2019
---
iAdroit featured in Indian National Media for its Game Verdict 2014
Right before the last Indian general elections in 2014, iAdroit launched its Android game Verdict 2014. The game is roughly based on the Indian ballot system of voting its Prime Minister. The game became so popular that an iPhone and a Facebook version was released shortly. The game is about fighting it out for your favorite Prime Ministerial candidate in the virtual world to get him maximum seats. The most interesting part was the fact that the global result of the virtual game almost predicted the winning candidate in the actual election. This largely led to its popularity and was featured on major media channels like Headlines Today, India Today, Zee News, Channel 10, Kolkata TV, Aaj Tak, Sahara TV, 24Ghanta, etc.
24 Ghanta covers iAdroit's Android Game – Verdict 2014
24 Ghanta, one of the reputed news channels in West Bengal, paid a sudden visit to iAdroit's Kolkata office on 12th of March, to follow the progress of our Android Game on the upcoming Indian General Elections.
Online play stores had seen a few games on the election and were getting a lukewarm response. iAdroit stole this opportunity and within a month launched Verdict 2014. An engaging and interactive game, it was modeled in a way that kept adding the global scores of virtual polls all over the world until the eve of election result in May. 24 Ghanta covered the news and termed as the best Game on the Indian General Election in 2014.
After Android, iAdroit launches Facebook version of Verdict 2014
Having received huge popularity with its Android version, iAdroit decided to make the game available for non-android users by launching it on a popular social media networking site, Facebook.
On the eve of the launch of 'Verdict 2014' Facebook version on the 31st of March 2014, Channel 10, a prominent news channel in West Bengal, covered the launch live at our Kolkata office. The Facebook version of the game is an extension of its original Android counterpart with some additional components to add zing to the already popular game. Immediately after its release the Facebook version became an instant hit among users!
Media Buzz on the growing success of Verdict 2014
Several media giants from the city as well as national media visited iAdroit's office right before the elections to meet the winning team that built this super successful game. The game received a huge applause from users nationally and globally. Its concept, design, graphics and navigation have all been modeled and created by iAdroit members within a span of a couple of months, and added to the game's extremely positive user experience.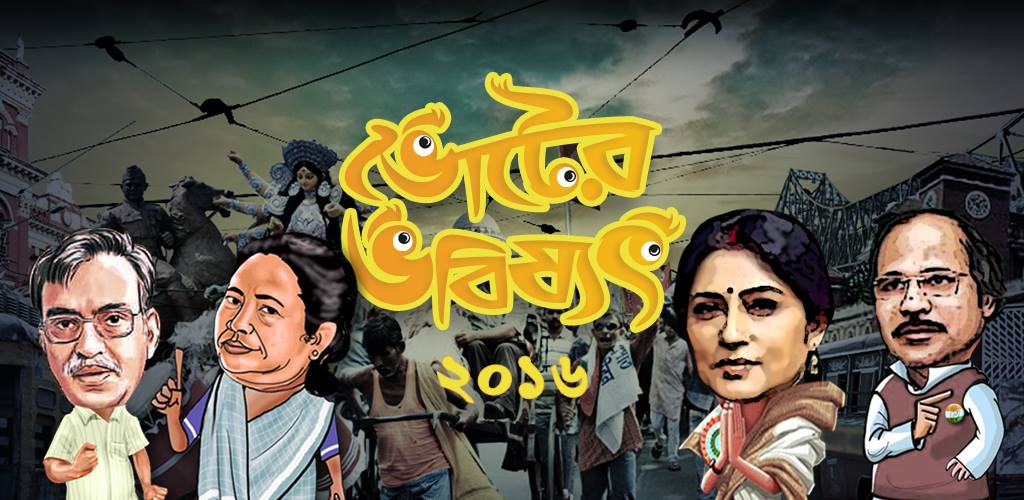 "Voter Bhabishyat on Zee News"
on Zee News As news broke out about iAdroit's mobile game on the upcoming State Elections in West Bengal in May 2016, Zee news (24 Ghonta) visited the South Kolkata office to cover the launch. Team iAdroit explained that this was an inspiration from their last mobile game on a similar concept that went viral after major national media houses covered the news. The last game was launched during India's General Election in 2014. Post its success, the team has come up with a improved version for its state election. Here's the clipping of the actual news coverage. zeenews.india.com/bengali/lifestyle/election-video-game_137851.html
Times of india covers "voter Bhabishyat"
iAdroit was once again in the news as soon as they completed their mobile game "Voter Bhabisyot". The team were busy readying the game for launch when Times of India correspondent Bishwabijoy visited iAdroit's Kolkata office and interviewed them about the new game. From concept to game logic, graphics to technology, they covered it all. The news was published on the city supplement of the reputed national daily Tiems of India. Here's the link to the online version of the news. http://epaperbeta.timesofindia.com/