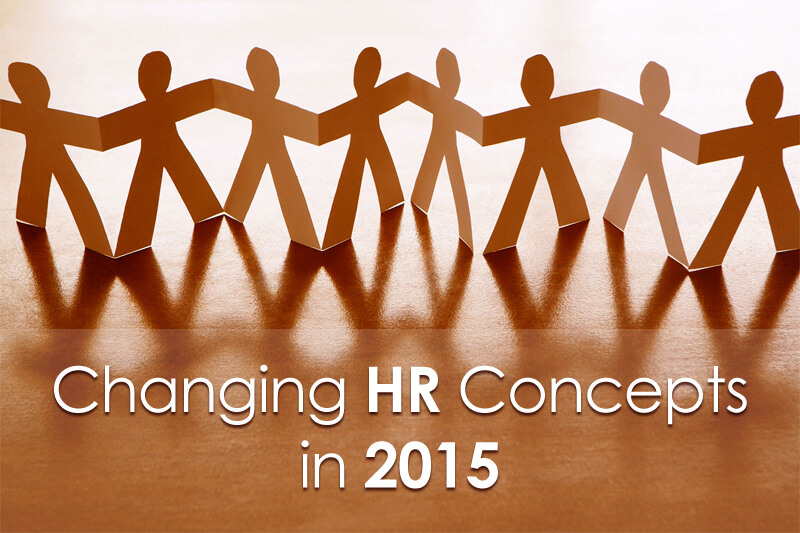 With improved global economy, the competition to pool the best talents is ever-increasing. As we are heading towards the year end, companies retune their financial plans and strategies. HR professionals cannot afford to get bogged down by regular HR issues. A competent HR and sourcing requires exploring the opportunities, possibilities and threats to revive a well-versed and progressive HR plan.
Let's mull over few key HR trends for the year 2015:
Retention and Recruiting: Employees will be more open to look at new possibilities and avenues with soaring confidence. As a result, retention would be a major concern. Contrariwise, joblessness scenario improves which would create a tug and war situation between engaging the best talent and available job.
In coming years starting 2015, work force intelligence in HR will spot the areas like:
1) Earmarking the employee with considerable good track record and their chances of quitting.
2) Identifying the consultancies and other recruitment sources to provide the best performers.
3) Creating a missing link between performance, compensation and recruitment to influence retention.
As we move ahead, developing precise and skillful hiring, predicting turnover and identifying organizational talents would be the improved responsibilities of HR.
Generation Z to get preference: We are looking at a workforce born between 1994 and 2010 who is likely to be singled-out. With an increasing trend of early retirement among a sizable portion of the work force well ahead of schedule, most companies will be looking for young interns out of colleges and grad schools. Big shots like Microsoft, Facebook, LinkedIn, and Deloitte have already started hiring interns for a steep internship payout. This will definitely help to create a brand identity and bridge the skills gap.
Cloud Computing is the next big thing for HR: Cloud computing will get predominantly important in HR in the coming years. We have started storing data in cloud. Gradually we are minimizing the need of an in-house server to store data. Cloud computing will likely be replacing the conventional software used today. Going ahead, a company of massive dimension, spread across globally can access real-time information with data stored online. Business dealings will get easier, economical, flexible and effective with cloud computing HR applications. About 75% of businesses have shifted to cloud for a wide array of benefits. SAAS (software as a service) makes the HR task free flowing, reduce absence cost, makes sharing hassle-free and helps in utilizing the time in growth and development of a company.
Workforce Cost camouflage headcount: Employee Compensation refers only to a fraction of the workforce's cost to the company. As we progress in the coming year, HR will be entitled to present an exact and updated report on the total workforce cost of the company which includes the basic salary, productivity cost, development cost, training cost, housekeeping cost, additional benefits, complimentary off's, incentives, health plans, mediclaim, pension plans, insurance and contingent workforce of a company. More and more company decisions would be based on detailed workplace planning and actual total cost rather than just focusing on headcount. TCOW (Total Cost of Work Force) creates connectivity between the amount of money invested by the company, workforce's behavior and the areas of improvement, enabling the managers to take decisions in coherence to the organizational strategy.
Video connectivity will be in the mainstream of HR: New generation employees today are exposed to video interviews that allow a sneak a peek into the office profile and services through a video. An all-across video connectivity in an organization can broaden its possibilities of hiring the top class talents across the world. Colleagues from distant locations all over the globe can collaborate via the audio-video connectivity and facilitate social connectivity and employee engagement and retention.
Diversity brings in better performance: It has been found through numerous studies that companies with cognate working trends tend to perform lesser than companies with diversity. Diversified recruitment, progression, sponsorship, promotion and turnover will be the main areas to focus in HR.
Social media into hiring: To make a conspicuous presence, more and more companies will take social media to their advantage to strike connectivity with the management, peers, client and customers. Social media updates and blog posts will be the trend employers will be following in 2015. Work related shares and posts will be more widespread and common in HR. Statistics show that 58% of job seekers prefer companies active in social media and those that have a social media presence. With the help of social media, companies get to access data which were inaccessible earlier.
Honesty takes the center-stage: Even now, as much as is predicted for the coming year, more and more employees prefer companies who talk about their current scenario with transparency, share future plans and give time to time feedback. As per Randstad Employer Branding Study, Generation Z and Y will be prioritizing honesty, transparency and fair management as one of their parameters to consider a job offer, besides compensation and job role.
As we move on, we'll find more companies get into empowering workforce intelligence. The key areas of HR that needs immediate attention are Retention Management, Talent Acquisition and Access, and Leadership.
Hope the points discussed helps emerging organizations to create a schedule for the future growth strategies in relation to Human Resource Management. 2015 will definitely take HR to a different level altogether. Cutting-edge workforce planning with an actionable insight would be the next big thing to watch out for.